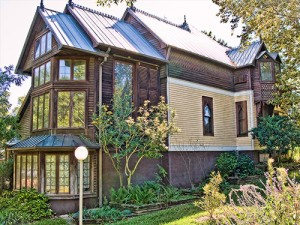 Staying on campus for the Poetry Festival offers extraordinary charm and serenity. Guests experience life with the visiting poets and community of writers and readers. Shared meals in the antique dining room are a particular favorite. The grounds offer many opportunities to connect and reflect: take slow walks through winding gravel paths and verdant arbors, visit the sprawling flower gardens, and adventure among Old World stone ruins, while savoring immersion in poetry.
Rates include a delicious expanded continental breakfast served in the Menke House dining room each morning.   Please consider sharing your room with another participant; it not only will save you money but will allow our very limited campus lodging to serve more festival attendees—thank you!
Please contact the Festival Institute office regarding available accommodations and rates. reservations@festivalhill.org or phone 979-249-3129.
Prices include taxes. A variety of alternate lodging and dining accommodations are also available in convenient proximity to campus.  Area lodgings are in high demand. Contact an inn or motel as soon as possible!  Info on nearby lodging is available at www.roundtop.org
If on-campus lodgings are sold out, there are many options in the village of Round Top and nearby, from historic bed and breakfasts to hotels and motels. Find a comprehensive list at the Round Top Chamber of Commerce site.
Below are some of the sights at Round Top.
William Clayton House
Named in honor of William Lockhart Clayton, the man who authored the Marshall Plan for European Recovery shortly after the Second World War, this beautiful Victorian home was moved to Festival Hill in 1974 from La Grange, Texas and restored for housing in 1976.
The Edythe Bates Old Chapel
The Edythe Bates Old Chapel was built in La Grange, TX in 1883 as the Episcopal Methodist Church of La Grange. The congregation of the Travis Street United Methodist Church used the sanctuary for worship until it was sold to the Festival-Institute in 1994.
The Herzstein Memorial Plaza
A large figure of Saint John, the Evangelist, also overlooks the Herzstein Memorial Plaza. He holds a quill as a symbol of the Word, Contemplation and Faith. A masonry and sea-shell encrusted Blue Grotto houses marble benches and a limestone table providing a shady and cool shelter for picnics and contemplation on the Herzstein Plaza on even the hottest afternoons. There is a modest fishpond, full of gold fish and water lilies.